Lavante Recovery+
Technology-Enabled Recovery Process
Traditional statement reconciliation looks back to a time when companies had a fewer suppliers, resources were not as constrained, and supplier change was less frequent. Statement audits could be done as an infrequent, manual process. But the world has changed. Every company – from the mid-sized company to global enterprises – must now manage massive numbers of a constantly changing supplier base.

Lavante reinvented this process by building an efficient, scalable technology solution that delivers the visibility, quality, efficiency and transparency needed to drive automated, real-time recoveries.

Lavante holds the industry's only patent for technology and methodology that automates the end-to-end statement auditing process. Here are several key differentiators:
Smart OCR Technology: Lavante has developed proprietary OCR technology which exponentially increases the speed and the volume of statements processed. In addition, the new technology is able to automatically parse and extract key credit details from the statement to the Lavante database. The result is extremely fast processing and delivery of credits over time.

Document Collection & Management: The Lavante platform manages and tracks all related backup documents, such as credit verifications and workflow notes, for the life of the recovery program. Users have quick access to view documents through a simple mouse-click.

Distributed Collaborative Workflow: By allowing various Lavante and customer domain experts to work concurrently in the common environment, claim reconciliation and actualization are automated and streamlined.

Unlimited Scalability: Lavante's distributed architecture allows full scalability and increased processing speed, with the ability to manage an unlimited number of statements, line items and back-up documents.

Fast, Simple Deployment = Fast Deliver of Dollars
Because Lavante's solution uses technology to drive the statement audit process, we need only a few, electronically-transmitted files to begin the process. This simple, straightforward process requires little to no IT involvement and takes a minimum of time to execute. In most cases our customers receive credits within weeks of beginning the automated vendor outreach.

As shown below the process has minimal impact on our clients, and because it is a process vs. a project, our clients receive continuous value.

Click here for larger image.

Seeing is Believing: Technology Speeds Delivery of Credit Dollars

This large entertainment enterprise realized quick results, with credits delivered within 2 weeks of outreach to vendors. In addition to the credits identified, they also were able to begin understanding what was driving the credits, with the ability to drill into each of the types to study the specific vendors.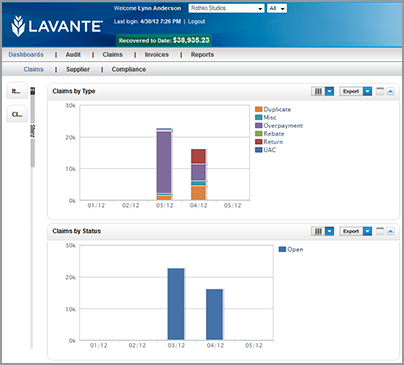 Click here for larger image.