Lavante Recovery+
Interactive Reporting & Analytics

Ongoing reporting is critical to understanding the results and impact of your statement audit recovery process. It isn't enough to wait 10-22 months, as is typical of a traditional statement audit process to see your results. You need access to the dollars uncovered, as well as insights into potential issues on a timely basis, so you can make smarter decisions and take fast corrective actions.

Lavante's recovery process offers just that – an ongoing process that gives users fingertip access to a wide range of configurable dashboard reports that can quickly show, for example:
How many dollars were uncovered last month or last quarter
Trend analysis across the entire history of the recovery process
What processes, divisions, or suppliers drive greatest number of credits
Which suppliers have complied with statement requests

With a wide range of reports, from drill-down details to high-level roll-up reports for upper management, Lavante Recovery+ users can always demonstrate the value of the process, and understand how the process is working. They can also perform root cause analysis to identify and correct process issues – fast.
Without real-time, ongoing access to audit results this is simply not possible.

Seeing is Believing:
This company was able to clearly show the recovery trends over the last four quarters, with drill-down capabilities to immediately identify the three vendors responsible for the increase in overpayments after Q1 2012. Because the client had immediate access to this information through the online portal, corrective actions could be taken – fast.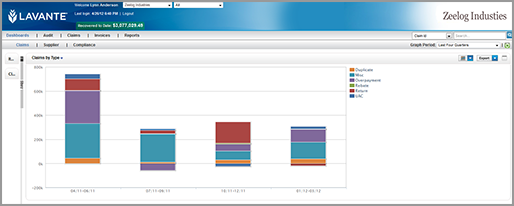 Click here for larger image.