Lavante Recovery+
Continuous Credits Recovered

There are many reasons for vendor credits to occur — overpayments, missed rebates, duplicate payments, undocumented returns, and more. Especially when dealing with an extremely large pool of vendors, it is impossible for a company's internal controls to catch every problem.

Lavante understands that this is an ongoing issue, and has built a technology-enabled solution that provides a continuous process to catch every dollar that your processes miss. There are several critical problems that Lavante has solved that allow this to happen:
We reach out to all of your suppliers – not just a sample or the top 10-20%
Our patented technology scales to manage all communications, documents and line items over time
The process is ongoing, and drives continuous dollars to your bottom line

Seeing is Believing: Continuous Recovery Results
With Lavante's interactive trend reports, it is easy to see the results of a continuous, automated process that quickly identifies and delivers verified credits through our online web portal. As shown below, Global Med, a customer of Lavante's since late 2006, has benefited from continuous dollars identified and delivered to their bottom line.

This graph is fully interactive, allowing the user to click on any of the elements to view the details of the audit process. And, these results are updated in real-time, as they are discovered and delivered to the client.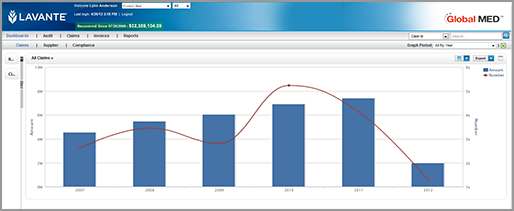 Click here for larger image.